Spend Father's Day In Downtown Naperville
Having trouble with coming up with plans for your Dad for Father's Day? Spend Father's Day in Downtown Naperville this year!
Here are a few events going on this weekend in Downtown Naperville:
Summer Sculptures Revealed
Every year Downtown Naperville has painted sculptures scattered throughout the downtown area. This year, 18 Round Chairs are on display on the sidewalks. Yes, you can sit in these chairs, but it is strongly advised that you do not stand or climb on the chairs as they are still delicate pieces of art. See these cleverly painted chairs on display from now until mid-September. Below is a map of where each sculpture is located.
Downtown Naperville Classic Car Show
Check out all of these classic beauties as you stroll along the sidewalk on Jackson Avenue. Take a short detour from the Riverwalk and see up to 100 classic cars in all makes and models. Any car loving Dad is sure to love this car show!
Naper Nights Concert Series
Bring a blanket or lawn chairs and enjoy the Naper Nights Community Concert Series on the grounds of Naper Settlement. Friday, June 17th will feature Mr. Blotto – an Allman Brothers, Grateful Dead, and The Band tribute band and The Fortunate Sons – a CCR Tribute band. Saturday, June 18th will feature American English – a Beatles tribute band and Beggars Banquet – a Rolling Stones tribute band.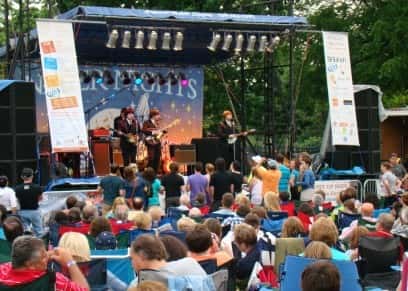 Special Meals out with Dad
Grab a delicious burger at Ted's Montana Grill or sit back and relax at Jimmy's Grill on their outdoor patio. Make the day special for Dad by taking him out to eat at one of Downtown Naperville's fabulous restaurants.
Out of Ideas?
You can always swing by our Bill Jacobs BMW dealership and take Dad on a test drive that he will never forget.
Dad can test drive a BMW this weekend and for every test drive mile driven, we will donate $1 to to the Ronald McDonald House near Central DuPage Hospital in Winfield, IL as part of our Drive for a Cause Event.
Happy Father's Day!