Volkswagen Motorsport Team Prepares For Global Rallycross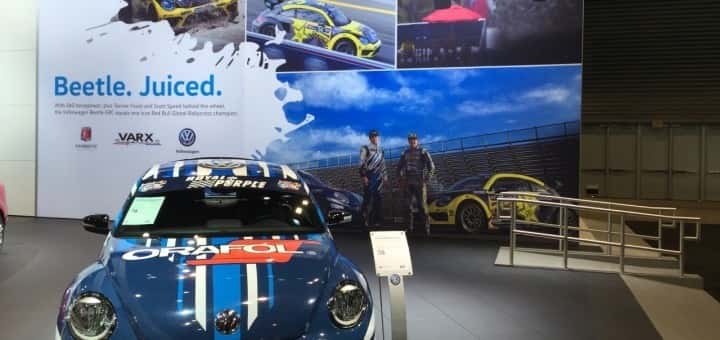 Here at Bill Jacobs Volkswagen near Aurora, IL, there are few things we enjoy more than watching the Volkswagen team race in the Global Rallycross Championship (GRC). Beginning May 21st in Arizona and ending October 9th in Los Angeles, the racing series pits modified production cars against one another in the ultimate mixed-surface racing circuit. Race venues include NASCAR speedways, street courses, and more, and routinely feature a mix of dirt and asphalt for drivers to contend with.
The Volkswagen team puts the pedal to the metal in heavily modified VW Beetle models. At first glance, the VW Beetle GRC sounds like your run-of-the-mill commuter car with a four-cylinder engine, 1.6-liter displacement, and a turbocharger. But thanks to an oversized air restrictor, this Volkswagen dishes out an incredible 560 horsepower that leaves competitors in the dust.
Last year, the Volkswagen Andretti Rallycross team put the VW Beetle GRC through its paces, and had plenty to show for their efforts. Volkswagen Motorsport Director Jost Capito had a lot to say about the team's performance: "It's a huge success for Volkswagen to have won the championship in its very first full season in Global Rallycross with the Beetle. In the second half of the season in particular, the Volkswagen Beetle GRC really showed what it's made of. Things are always very close in Global Rallycross, and the races come down to the wire. The Volkswagen Andretti Rallycross team did a fantastic job."
Of course, having the right car is only part of the equation. The key to victory is having skilled drivers who know how to get the most out of their vehicles. Volkswagen Andretti Rallycross team members Scott Speed and Tanner Foust made it onto the championship podium 13 times last season, coming in first on five occasions.
We can't wait for this season to start. And while you may not be planning on a career in racing, driving a VW vehicle is still the best way to own the road. Come in to Bill Jacobs Volkswagen today and let us help you find the perfect Volkswagen car.