VW Enthusiast Show Fleet Revealed for 2016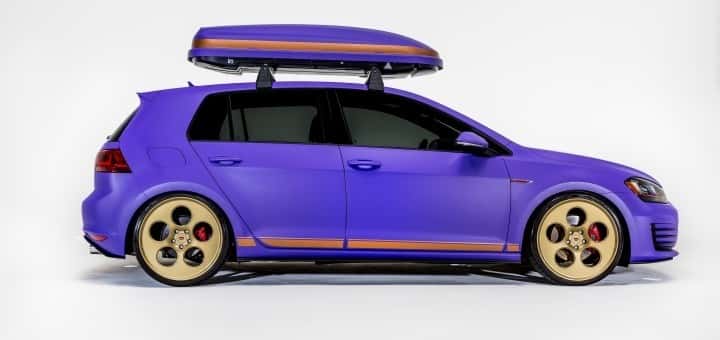 Summer is almost here! For car enthusiasts, this means that the season of car shows is about to begin. Volkswagen of America, Inc. has revealed its enthusiast show fleet for 2016. Five popular Volkswagen models were chosen, focusing on performance and pure style.
Meet the Enthusiast Show Fleet

Golf GTI
Bright. Bold. Iconic. The Golf GTI embodies both speed and style. Not only does this car come with a very unique purple color, but it also has 20 inch forged LC-103 gloss gold rims from Vossen. The gold accent color is added tot he heritage stripe on the doors, as well as the carrier box. This lowered Golf GTI proves that not only is it a performance vehicle, but a practical one too!
Jetta GLI
Comfortable on the street, but a beast on the race track! The Jetta GLI displays the track configuration with BFGoodrich g-Force Rival tires and H&R Street Performance coilovers for improved grip and handling of the road. The eye-catching red color of this car will be the color that your opponent always remembers when you pass them up. When you're finished at the track you can just pop open the rear seat and take out all of the tools required to take this car from the track back to the street. The Jetta GLI is the ultimate care for track convenience.
Golf R
Don't let looks deceive you. This Golf R carries quite a punch to it. A few subtle changes were made to this model, preserving its modest appearance and under-the-surface performance. Modifications like VW Zubehör 19-inch black aluminum-alloy Lugano wheels and a black matte roof wrap give this Golf R a sleek appearance. H&R Sport Springs were also added to give the car a lower look without sacrificing the handling of the vehicle.
Passat
Get the feeling that you're riding on air with this Passat. It features a custom AccuAir E-Level Touch pad air management package. The often over-looked trunk space is outfitted with custom wood flooring and houses the brightwork of the air suspension system. At the lowest suspension setting, the lines of the new body styling are highlighted with the help of the Satin Ocean Shimmer wrap and 20-inch forged LC-106T clear glossed Vossen wheels, giving the Passat the appearing of floating on a cloud.
Golf 1.8T
Drawing inspiration from the Mk 1 Volkswagen Rabbit, the Golf 1.8T brings the classic look of Volkswagen to modern day times. With its flashy and famous Bali Green paint color, yellow headlight tinting and mirroring gold spokes of 19-inch BBS Super RS wheels, the Golf 1.8T will turn heads at every car show. Keeping with Volkswagen tradition, the heritage stripe is painted in black, tying this classic look together.
The Volkswagen Enthusiast Show Fleet will be making stops at events around the country. To see one of these cars in person you can visit the following shows:
The European Experience: Savannah, GA—5/14-15
Waterwerks at the Park: Tacoma, WA—6/26
Waterfest: Englishtown, NJ—7/16-17
Wolfsgart: Burlington, VT—8/5-7
Fastivus: Fontana, CA—8/13-14
H2O International: Ocean City, MD—10/1-2
NOLA Speed and Style: Westwego, LA—10/8-9
Can't wait to go see one of these amazing cars? Stop in to your local Bill Jacobs Volkswagen dealership today to get your hands on one of these 5 models and customize it to make it your very own Volkswagen enthusiast show car!