What's the Best SUV with a 3rd row seat?
CARS.COM — With as many as eight seats, three-row SUVs are the vehicles of choice for families that prefer the styling and optional all-wheel drive of an SUV over a minivan. The market has changed some since Cars.com'slast three-row Challenge, so we're pitting last year's winner, the Honda Pilot, against three significant competitors — one updated, one fully redesigned and one new to the market. (The rest of the class has remained relatively unchanged since our last test.)
Our price requirement was a maximum of $46,000 including all options and destination charges, which yielded three all-wheel-drive SUVs and one with front-wheel drive. Competitors included the 2018 Chevrolet Traverse, 2017 Honda Pilot, 2017 Toyota Highlander and 2018 Volkswagen Atlas. Ford declined to participate with the 2017 Ford Explorer, which we invited because it's the class sales leader.
The 2017 Three-Row SUV Challenge
Results | Cargo Space | Third Row | Mobile Devices | Video
Four judges individually awarded points in 12 categories: interior quality, front-seat comfort, second-row comfort, third-row comfort, cargo storage, in-cabin storage, powertrain, ride quality, noise, visibility, worth the money and multimedia — the latter a category that accounts for the touchscreen-based interfaces that are, more than ever, the means to activate and adjust fundamental features of the vehicle itself, not simply ways of controlling audio sources and navigation systems.
Each model was also awarded points for the advanced active safety features with which the test vehicle was equipped as well as for its grades in our Cars.com Car Seat Check, which gauges the accommodation of various child-safety seats.
Judges for this Challenge were:
Mike Hanley, Cars.com senior editor
Fred Meier, Cars.com Washington, D.C., bureau chief
Brian Wong, Cars.com Los Angeles bureau chief
In-market shopper James Gorman, 50, a Chicago-based management consultant who is in the market to replace a 2013 Audi Q7 TDI
You can learn how we conducted testing below the results. Here's how these SUVs finished:
4 2017 Toyota Highlander Limited, 559 points
The verdict: If a two-row SUV is all you really need, the Highlander is a solid choice, but a family that needs three rows and cargo space can find more room and comfort among competitors.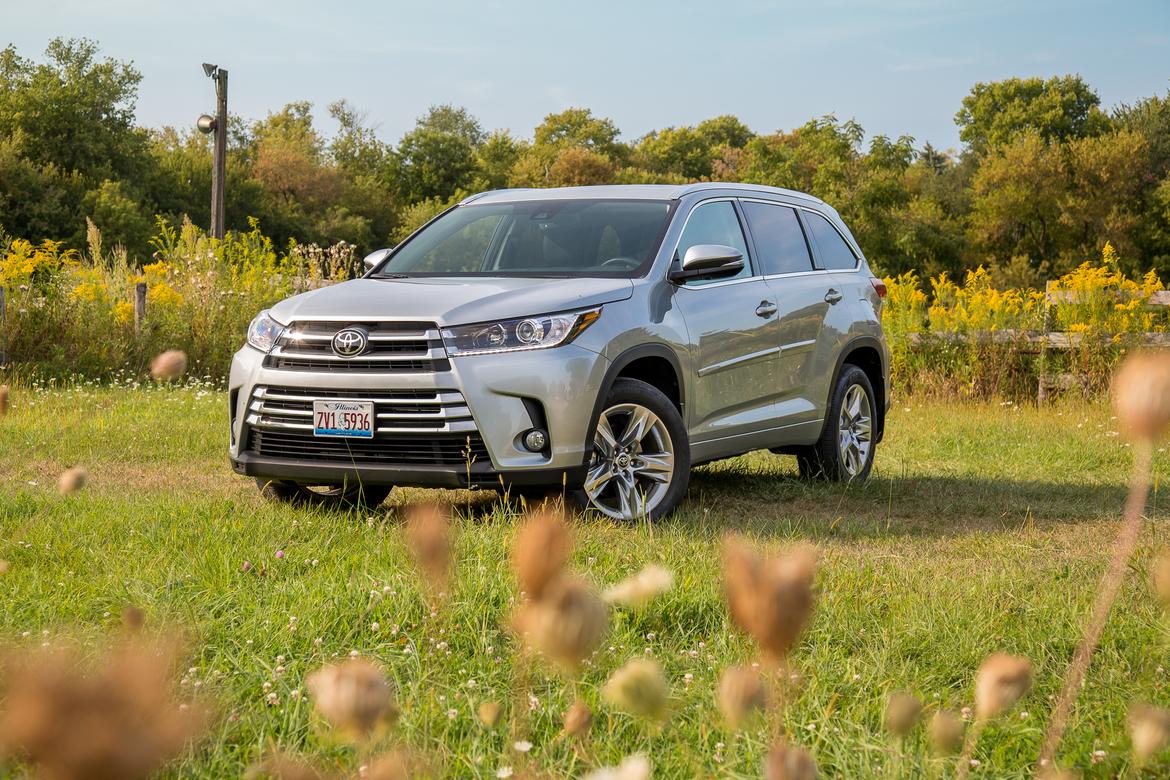 Our Test Vehicle
As-tested price: $44,514
Engine, drive type: V-6, all-wheel drive
Estimated city/highway/combined mpg: 20/26/22
Since our 2016 three-row Challenge, the Toyota Highlander has gained a new available V-6 engine and eight-speed automatic transmission, with which our test vehicle was equipped. Despite a growth spurt in 2014, the Highlander was the smallest of our contestants — and that took a toll in many areas, earning it the lowest point totals in second- and third-row comfort, child-safety-seat accommodation and cargo space.
What They Liked
Dashboard device tray: "A dashboard is usually just a flat panel," said Wong. "But Toyota made it into a shelf that can fit phones and has a cord management system to keep charging cables neat." Hanley called it "a smart storage idea that recognizes the importance of smartphones in peoples' lives."
Standard safety technology: The Highlander was the only contestant that had standard front collision warning with automatic emergency braking, adaptive cruise control and lane keep assist. "You get the full array even if your budget is limited to the entry model," said Meier. "Props to Toyota." However, because our Honda Pilot and Volkswagen Atlas included similar features as options within the price cap, our Highlander saw no advantage in points for having the features standard.
Front-seat comfort: The one row seemingly unaffected by the Highlander's smaller size, the front seat earned the most points for comfort. "I liked the extra bit of adjustability provided by the driver's seat's variable-length bottom cushion," said Hanley.
Second-row materials: "The interior quality doesn't drop off in the second row like in many SUVs," Meier explained. Hanley noted the same.
Center-console storage: "It had the largest center storage bin between the front seats, easily big enough to fit a tablet and even a small purse or bag," said Wong. Unfortunately, this and the universally praised device tray weren't enough to keep up with the competition for overall in-cabin storage points.
What They Didn't
Backseat comfort: Our Highlander earned the fewest points for second- and third-row comfort, the latter by a landslide. "The captain's chairs didn't offer much support," Wong said. Meier noted that "the opening to get into the third row is small, and space is tight once you're back there. The seat has belts for three but room for one, at least if it's an adult. You sit almost on the floor with knees up, and headroom is limited." If that weren't enough, Wong appended, "Your feet don't fit beneath the second row."
Cargo capacity: "It's hard to see how the small cargo area behind the third row would be enough space for a family," said Hanley. The Highlander earned the fewest points in the cargo category.
Touchscreen and multimedia: Judges couldn't excuse Toyota's lack of popular smartphone interfaces, which played a part in the touchscreen system's poor rating. "Holding out against Apple CarPlay or Android Auto is seeming odder and odder, even if Toyota thinks it has a better idea," said Meier. Wong added, "This would be less of an issue if the system were good, but the screen is low-resolution and operation isn't as intuitive as the Atlas or the Traverse."
Ride quality: "The Highlander's ride was busier and a little noisier than the others," said Meier. Guest judge Gorman observed, "This definitely feels like I'm driving a truck." Our Toyota's ride quality trailed the competitors by a couple of points.
Child-seat accommodation: Grades in our Car Seat Check for the Highlander Hybrid translated to the lowest point tally for the Highlander. The Highlander lost points for floppy buckles in the second and third rows as well as poor visibility when the forward-facing convertible was fitted in the third row with a ceiling-mounted seat belt.
Exclusive to the Highlander
A custom space under the cargo floor stores the cargo cover when it's not in use.
Research the 2017 Toyota Highlander | Search Inventory | Car Seat Check | Photo Gallery
3 2017 Honda Pilot Touring, 674 points
The verdict: The Pilot has the kind of cabin room and storage space families crave, but an indecisive transmission and fussy touchscreen system hold it back as newer competitors raise the bar.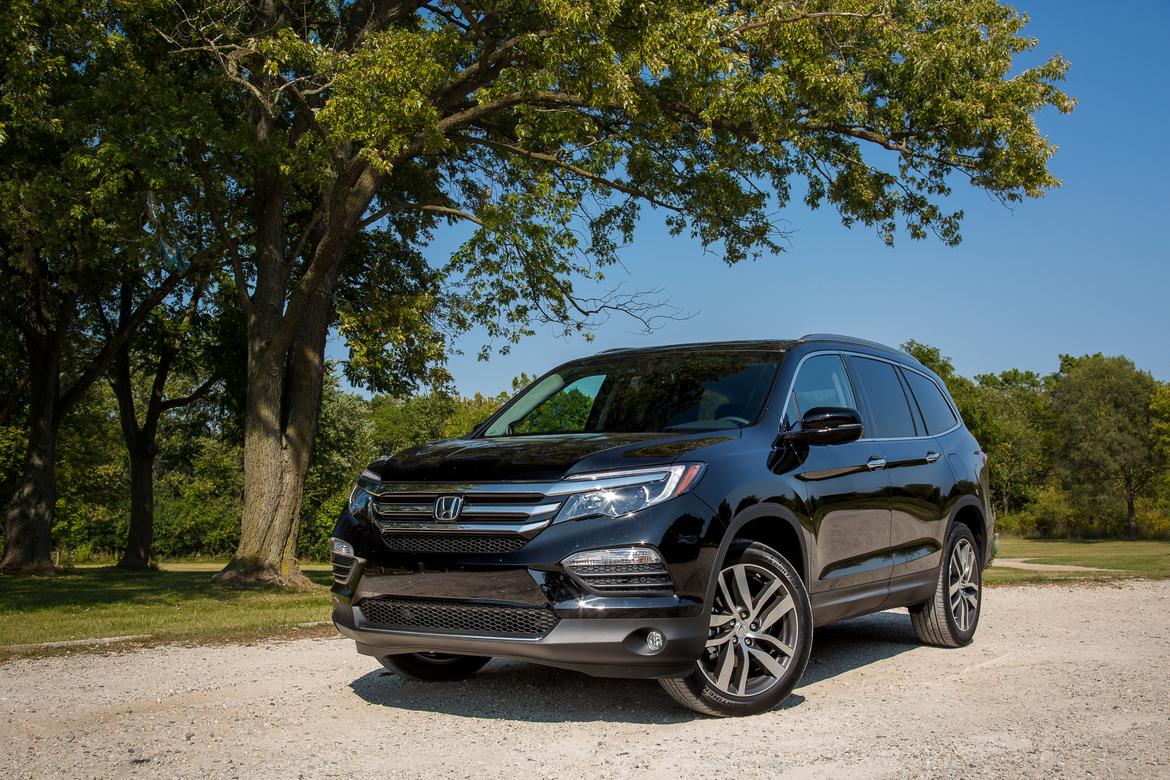 Our Test Vehicle
As-tested price: $44,370
Engine, drive type: V-6, all-wheel drive
Estimated city/highway/combined mpg: 19/26/22
Mostly unchanged since its 2016 win, the Pilot now includes Apple CarPlay and Android Auto smartphone connectivity standard on all trim levels except the base LX. Sadly, the nine-speed transmission criticized last year remains an issue. If you want a higher trim level or higher estimated efficiency, you're stuck with it in place of the standard six-speed automatic.
What They Liked
Outward visibility: "I feel I have very good visibility in this car," Gorman said. The Cars.com judges agreed, rating the Pilot highest. Meier called out "the old-school safety of big windows, and even an extra little triangle window in each front door where most others have a blind spot."
Noise levels: "It's very quiet," Gorman said. "I hear no wind noise whatsoever." Our Pilot rated best for quietness.
Interior quality: "The interior has an upscale look with a high-quality fit and finish," Meier said of our Pilot, which was awarded the second-most points for interior quality.
Cabin storage: Though our Pilot tied three ways with the Traverse and Atlas for in-cabin-storage points, judges called out "a huge bin in the center console and various storage areas in the doors that provide lots of space for odds and ends," Hanley said. Wong noted, "The compartment has a removable rubber liner that can be taken out and washed in case of spills."
Cargo bin: "The cargo space behind the third row includes a wide, deep underfloor bin with a carpeted cover that flips to offer a washable surface or stows to create a bigger, deeper cargo space," said Meier.
Rear entertainment: "The only competitor with a standard rear entertainment system, and it offered enough input types (Blu-ray, HDMI, RCA jacks) to play any modern system or movie," Wong said. "I also liked the independent volume controls for each of the two wireless headphones."
Powered third-row access: "With the touch of a button on either side of the Pilot, the second-row seat slides forward and tilts to accommodate passage to the third row," Wong said.
What They Didn't
Powertrain: Though it's ostensibly an upgrade appearing on higher Pilot trim levels, the optional nine-speed automatic transmission earned our Pilot Touring the lowest powertrain rating. "Press the accelerator from any point other than a dead stop and there's what feels like a second or two of hesitation before it translates into added forward motion," Wong said. Hanley added, "It takes too long to kick down when you need more power to pass." Meier called upshifts "neither quick nor positive." In our experience, the standard six-speed transmission is much better behaved.
Gear selector: The row of gear-selector buttons "doesn't make it easier to change gears and adds no extra storage space in the center console," Hanley said. The judges were more accepting of unconventional shifters that at least conserve space.
Touchscreen and multimedia: Rated better than the Toyota but a good distance behind the second-rated Traverse, our Pilot's "maddening, menu-heavy media system has tiny touch-sensitive controls that require your eyes to be off the road," Meier said. It has no volume or tuning knobs. "At least it has Android Auto and Apple CarPlay, because if not for those … I try not to think about that," Wong added.
Third row: Though it again was ahead of the Highlander for points, our Pilot's third row was far behind the leading competitors. "It has a lot of headroom, but legroom is only adequate," Wong said, wishing the second row could slide forward farther. "The rear wheel wells intrude a lot into the hip room," Meier added. "There's no way to fit three normal-sized people back there, and it'd be a squeeze even for kids."
Exclusive to the Pilot
The LaneWatch feature shows the passenger-side blind spot on the dashboard display when the turn signal is activated for a right-hand turn or lane change.
Research the 2017 Honda Pilot | Search Inventory | Car Seat Check | Photo Gallery
2 2018 Chevrolet Traverse 3LT Leather, 680 points
The verdict: With nearly the utility and space of a minivan but the fashionable style and higher seating position of an SUV, the redesigned Traverse blends the best of each vehicle type.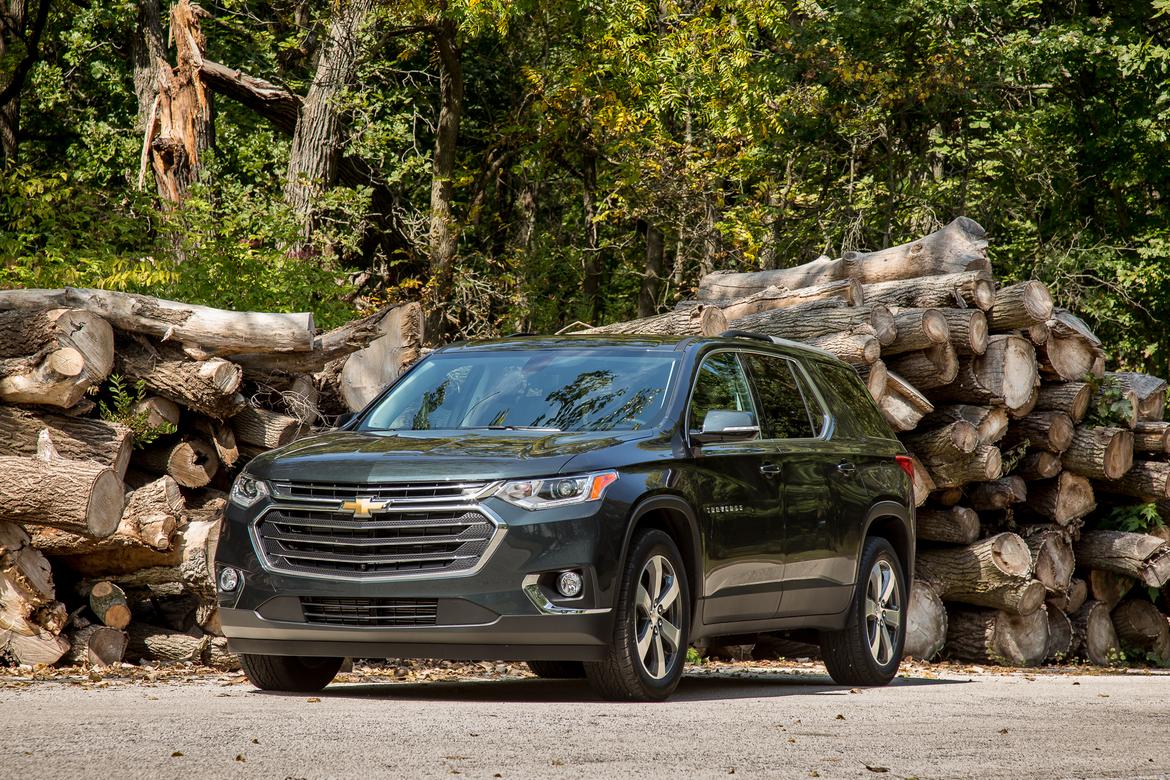 Our Test Vehicle
As-tested price: $44,185
Engine, drive type: V-6, front-wheel drive
Estimated city/highway/combined mpg: 18/27/21
The fully redesigned 2018 Traverse is about the same size as the 2017, but it has a more SUV-like shape and a 2-inch-longer wheelbase. As before, it comes with a 3.6-liter V-6 but now offers an optional turbocharged 2.0-liter four-cylinder on the Traverse RS with front-wheel drive. Our vehicle had front-wheel drive with the V-6 and new nine-speed automatic transmission.
What They Liked
Ride quality: "The composed, comfortable ride is one of the reasons behind its serene driving experience," Hanley said of our Traverse and its top ride-quality ranking. Gorman enthused, "It's very comfortable, it handles nicely. All in all, it's a comfortable ride. It's almost as quiet as my [Audi] Q7."
Cargo capacity: "The big Traverse has ample cargo space with the seats folded," said Meier. "But even with all seats up, there's room for gear behind the third row — the most in the Challenge — plus a bin large enough for a couple of backpacks under the floor." The Traverse historically has ruled the cargo category, but this time it's a close second to the big new Volkswagen Atlas in awarded points.
Third-row seat: It's a similar story for our Traverse's wayback seat, a close second to the VW. "The comfortable third-row bench seat is almost minivan-like with good headroom and decent legroom for adults," said Hanley.
Electronics extravaganza: "With seven USB ports scattered throughout the cabin, Apple CarPlay and Android Auto smartphone connectivity and a built-in Wi-Fi hot spot, the Traverse has the tech to keep your family connected on the go," said Hanley. Meier also cited "12-volt power up front and a household outlet behind the console."
Powertrain: "The 3.6-liter V-6 is smooth and responsive, the best engine in the Challenge at moving a big SUV," said Meier. The powertrain earned fewer points than the VW, in part, because "the nine-speed automatic still has some rough edges," he said.
What They Didn't
Safety technology: Our Traverse took a distant last place in this category because it wasn't equipped with forward collision warning with automatic emergency braking, adaptive cruise control or lane keep assist. "It was strange that these were missing on a vehicle that cost almost $45,000," noted Wong.
Seat comfort: The Traverse's roomy third row was an exception because its front seats rated last and its second row rated below average for comfort. "The second row is impressively roomy, but the cushioning of the captain's chairs is hard," Hanley said. Meier added, "More second-row slide would make it easier to compromise on space between the rows."
Outward visibility: "An unnecessarily large C-pillar hampers visibility on both sides," said Wong, and Gorman added, "The A-pillars and B-pillars do inhibit visibility a little bit" as well. Our Chevy rated just a smidge better than the last-place Highlander in this category.
Interior quality: Though the Highlander scored worst for interior quality by a substantial margin, our Traverse trailed the other two, taking a hit because of inconsistency. "The upper door trim is hard plastic, making it a less comfortable place to rest your arm when driving," Hanley noted.
Exclusive to the Traverse
The rearview mirror is also a wide-angle rearview camera mirror, a technology that first debuted on Cadillacs. It's usable when driving forward, not just in Reverse, and eliminates blind spots and anything that might otherwise block your view, like passengers' heads.
Research the 2018 Chevrolet Traverse | Search Inventory | Car Seat Check | Photo Gallery
1 2018 Volkswagen Atlas SEL 4Motion, 778 points
The verdict: Volkswagen's new three-row SUV hits the mark with its refined driving manners, ample passenger and cargo space, and easy-to-use technology.
Our Test Vehicle
As-tested price: $43,615
Engine, drive type: V-6, all-wheel drive
Estimated city/highway/combined mpg: 17/23/19
This summer, the redesigned Volkswagen Tiguan won our Compact SUV Challenge by a record-narrow 2 points. Not this time: Its new big brother, Volkswagen's first SUV with a standard three rows of seats, has won by one of the larger margins in Challenge history, 98 points. Challenge winners typically do well in many judging categories and get top scores in some; our Atlas beat its competitors in nine out of 14 categories, tied for best in one, finished second best in three and was second to last in one. In no quantified category did it come last. It bears noting that judges found some fault, as they always do, but in the end, the story is told by the points — including the highest total for worth the money.
What They Liked
Touchscreen and multimedia: "The touch-sensitive controls around the touchscreen are a little too sensitive," said Hanley, but our Atlas' system still earned the most points from him and each of the other judges with what Wong called its "sharp screen, intuitive menus, and Android Auto and Apple CarPlay waiting in the wings if you prefer those interfaces." Meier said, "The system is fast, the screen is sharp, and the creative color graphics are designed to look great and be easy to use."
Powertrain: Though judges found some fault with the V-6 engine, our Atlas' powertrain rated highest because its transmission behaves as all should. "The eight-speed gives you smooth, crisp shifts and will downshift without missing a beat," Meier said. "Best gearbox in the Challenge."
Safety technology: Our Atlas led the safety-tech tally by including all-speed forward collision prevention, blind spot monitoring, rear cross-traffic alert, front and rear parking sensors, and lane-centering steering assist where the Highlander and Pilot excluded one or two each.
Child-seat accommodation: The only contestant to make our 2017 Honor Roll with straight-A's in the Car Seat Check, the Atlas aced the second-ranked Pilot, which scored B grades for third-row access and booster-seat fitment in the second and third rows.
Backseat comfort: Our Atlas scored the most points for both rear-seat rows. "Even though the second row is a bench, it was very supportive," Wong said. Meier added: "Nine inches of slide adjustment made it easy to balance comfort for an adult in each row." Unlike the Traverse, both outboard seats can tilt and slide to provide third-row access, even with a forward-facing car seat installed. Once seated, Wong said, "third-row room was impressive." But Meier noted, "The big clamshell head restraints either push your head uncomfortably forward or poke you in the back."
Backup camera views: The backup camera's "different camera views help with various activities, including parallel parking or hooking up a trailer, and an ultrawide view makes it safer to back out of parking spaces and driveways," Wong explained. Meier called the wide-angle front and rear parking sensors' audio and visual alerts "as useful as 360-degree cameras in warning of safety hazards or people in the blind spots."
Handling: "The Atlas' steering is direct and smooth, and helps make this SUV easy to drive," Hanley said. Meier added, "The Atlas' driving dynamics are nimbler than you expect in an SUV this size."
Cargo capacity: Top-rated in this category, "The big Atlas can carry a world of cargo in its cavernous space with the seats down — and the bench second row in ours was the ideal for a flat load floor without gaps," said Meier.
What They Didn't
Noise: "The cabin is well-insulated from road and wind noise, but the engine can be loud at higher rpm," Said Wong. Our Atlas rated second to last for noise.
Engine performance: Gorman said the V-6 "feels completely capable," but it isn't exceptionally powerful for an optional engine and carried the lowest gas-mileage rating in the test. As Wong noted, "All of that noise doesn't mean a lot of acceleration; the Atlas feels a bit sluggish, even at high rpm."
USB stinginess: "The Atlas' four USB ports are the fewest of the SUVs tested," Hanley noted.
Interior design: Though it got the most points for quality, Meier questioned our Atlas interior's design: "The simple interior design seems bland, almost somber, compared with some flashier SUV interiors." On the upside, he said, "I don't think it will look out of style as fast, either."
Exclusive to the Atlas
The Atlas' bumper-to-bumper new-car warranty is unmatched with coverage for six years or 72,000 miles.
Research the 2018 Volkswagen Atlas | Search Inventory | Car Seat Check | Photo Gallery
How the Competitors Fared in Each Category
Cars.com graphics by Paul Dolan
How We Tested
Our weeklong test took place in the Chicago suburbs where Cars.com's expert judges drove each SUV on the same loop for back-to-back impressions. The fourth judge was an in-market shopper recruited through Cars.com's consumer panel, The Driver's Seat Community, which is where users can go to share experiences using Cars.com and get a peek under the hood of new features before they're released to the public.
Other areas scored included awarding points for as-equipped crash avoidance technologies including forward collision warning with automatic emergency braking, blind spot warning, lane departure warning, lane departure steering and lane-centering steering. Plus, we evaluated and scored how well child-safety seats fit in each SUV.
The scoring broke down this way:
78.2 percent from the judges' scoring
8.6 percent from our in-market shopper
6.6 percent from child-safety seats
6.6 percent from crash avoidance safety features
Here's how each car scored: