4 Advantages of Selling Your Car to Us Instead of on Your Own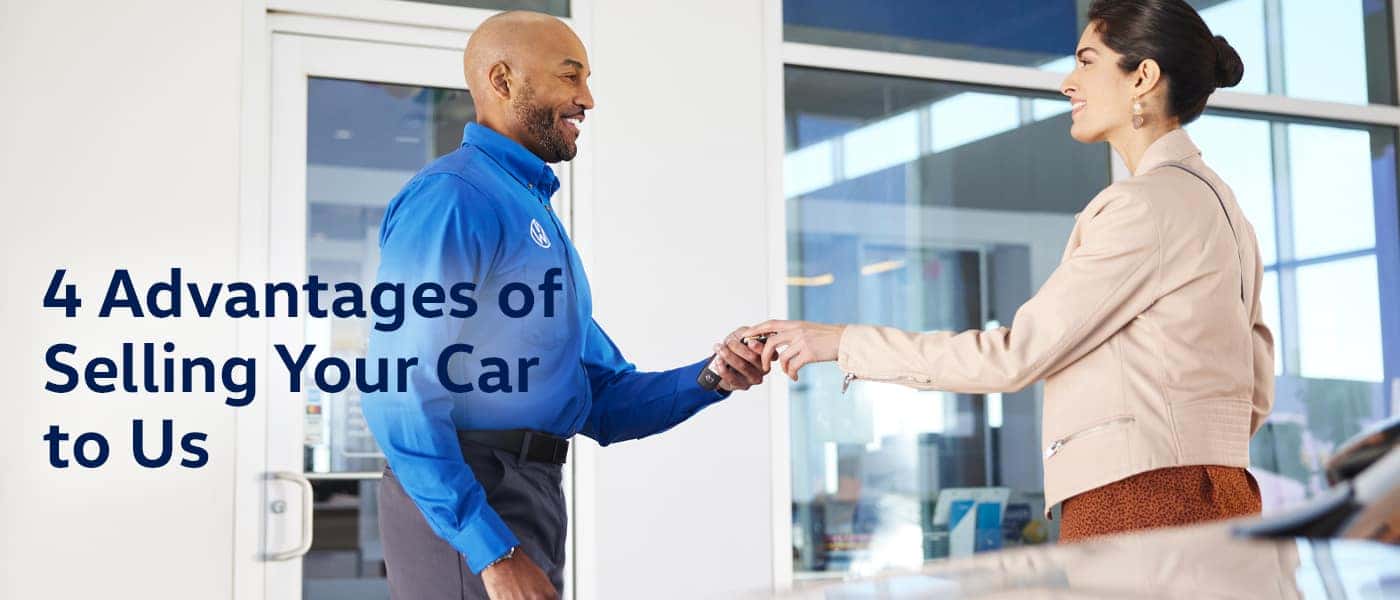 Are you interested in upgrading your ride? Do you have a vehicle you are looking to trade-in? With today's current demand for quality used cars, you have probably thought about selling your current vehicle. You have two options when it comes to selling your car: selling on your own or selling to a dealership like Bill Jacobs Volkswagen in Naperville. Let's go over the advantages of each option, so you'll know which one is right for you…
Advantage #1 of selling on your own?
100% of the price you sell your car for will go into your pocket. Of course, you may not get your full asking price after paying to list your vehicle, engaging in some back-and-forth haggling, and spending money on fuel to get to your buyer, but in the end, you'll get to keep what's left with no middleman to pay. And…that's it!
Advantages of Selling Bill Jacobs VW Your Vehicle
Advantage #1: Convenience.
If you're interested in selling your vehicle, you can simply fill out the trade-in form on our website. Our Used Car Managers are friendly and professional and have plenty of experience buying all types of cars, SUVs, trucks, and more. You can submit a form to us while you sip your morning coffee, and we'll be in touch with you shortly after with a free, no-obligation offer that you can study before deciding. We work on your schedule, so you don't have to worry about setting up a time to meet with a fussy buyer or if they'll be late/be a no-show. You also don't have to worry about any last-minute surprises or haggling—we work hard to stick by every offer we extend.
Advantage #2: Efficiency.
In the time it takes you to get your vehicle detailed, snap photos, list it online, negotiate over a price, take potential buyers for test drives, and wait for the money to clear, you could've sold your car to us and taken a nice, short vacation. Seriously—all we require is a few pieces of documentation, and within the hour of stopping in you could be leaving with money headed for your bank account. We can handle any detailing and repairs afterward with our on-site team to make the process even quicker.
Advantage #3: Transparency.
We work with accredited appraisal tools for a transparent experience that keeps you in the driver's seat of your sale. You'll have the advantage of knowing exactly what we look at to determine what your vehicle is worth, starting with live market data and followed by an inspection of its current condition. We pay industry pricing that doesn't fluctuate by time of year or depend on private competition. We treat each sale as unique and important as the last one, so you don't have to worry about whether you're selling at a peak time or how many other options a buyer can use to haggle you down even more.
Advantage #4: Safety.
Selling to someone you just met online could lead to anything from getting ripped off by a bad-faith buyer to something much worse. How much profit is enough to take that kind of a risk? Now that you've got your pluses and minuses columns filled in, it's time to choose the option that makes it easier on yourself. We're ready to make an exceptional offer on your pre-owned vehicle to fill our inventory today. Start by getting your initial value online, then reach out to chat with us in person for a final offer. Get what you deserve for your vehicle with a convenient option for getting your old car off your hands. Reach out today to find out how much your vehicle is worth to us.
Value Your Trade
Used Inventory