5 Reasons to Use Your Tax Refund to Buy a Volkswagen

Shop New Shop Used Apply For Financing
The 2023 deadline to file your taxes is Tuesday, April 18, 2023. With more than a month to go until the tax deadline, it may be tempting to wait to file your taxes. Did you know the average tax filer in 2022 received a $3,000 refund! File now, get your refund early, and you can put that money towards a new Volkswagen model.
Here are 5 Reasons to Use Your Tax Refund to Buy a Volkswagen for you and your family.
Tax Refunds Make Great Down Payments

Inflation and other economic issues are hitting everyone's pocketbooks hard. This may have prevented car buyers from being able to set aside savings for a down payment on a new or used Volkswagen. If you're fortunate enough to get a tax refund, investing that money into a new vehicle is always a smart choice. A general rule is that for every $1,000 you put down; your monthly payment will drop by about $15 to $18 which smart car buyers know makes an excellent use of a tax refund.

Lower Your Monthly Payment

The larger the down payment on your car purchase, the lower your monthly payment will be. Most banks give you 80% to 90% of the car's on-road price as a loan. Applying your tax refund to your new car loan may help you secure financing, may lower your finance rate, and may allow you the opportunity to shorten the duration of your car loan.

Pay Upfront Lease Costs

Leasing a vehicle is an attractive option for many drivers. Even without a typical down payment there are upfront costs associated with leasing a car. You usually have to pay the first month's payment, a security deposit, the acquisition fee and other fees and taxes. Using your tax refund to cover these upfront lease costs is an excellent way to take care of these fees without dipping far into your pocketbook.

Increase Your Buying Power

Each Volkswagen model has multiple trim levels. Options within each trim level include different pre-packaged groups of features with the higher end trim levels incorporating additional technology, comfort, and performance enhancements. Applying your tax refund to the purchase of a new Volkswagen may allow you to purchase a vehicle with more options than you've ever had before.

The Volkswagen Atlas and Tiguan Have a Third Row…enough seats for the entire family

Both the VW Atlas and Tiguan have a third row seat option. This is important when transporting your family to school, sports, and weekend adventures. As your family and adventures grow, using your tax refund to expand your vehicle's cargo and passenger space is an excellent way to make the most of your tax refund.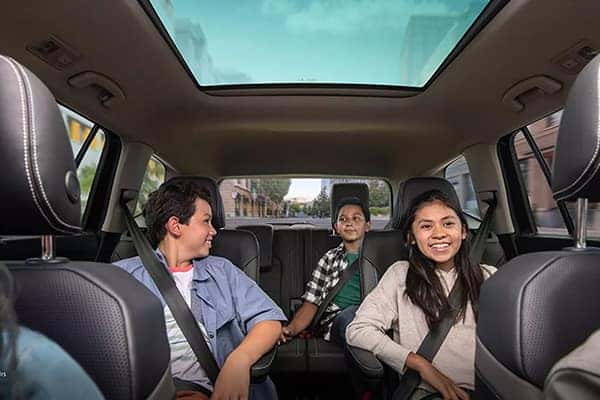 Whether you've already received your refund, or it's still being processed, come to Bill Jacobs VW in Naperville and let our team of Sales Advisors help you through the car buying process and make sure your car buying experience is as quick, convenient, and uncomplicated as possible. If you're ready to secure financing, apply now and know your buying power before even coming in to our Volkswagen dealership in Naperville, IL. Contact us with any questions you may have. Let us show you why the cars bring you in, the experience brings you back to Bill Jacobs VW.