Volkswagen Offers A Sneak Peek At Its Upcoming SUV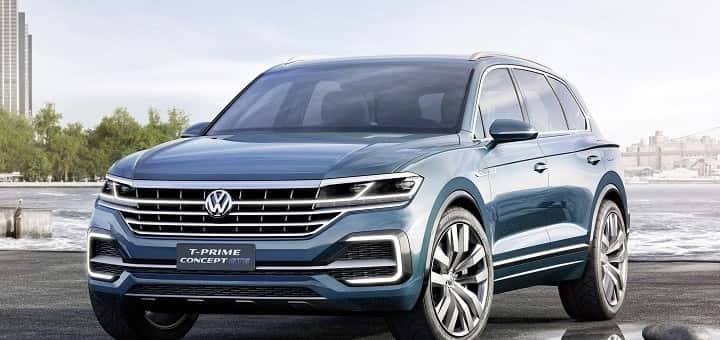 One of the most highly anticipated Volkswagen vehicles is the brand's upcoming full-size SUV. Set to join the Volkswagen Tiguan and Volkswagen Touareg in the Volkswagen vehicle lineup, this SUV will be a brand new model. The excitement regarding this SUV has been high among Volkswagen drivers—not to mention our employees here at Bill Jacobs Volkswagen. This VW vehicle has been a long time coming. The world got its first peek behind the curtain back in 2013 with the CrossBlue concept. Then came the CrossBlue Coupe. Last year we were introduced to the Cross Coupe GTE, a near-production model. Recently, Volkswagen pulled the cover back on the T-Prime Concept GTE. While the name has changed, these have all been pieces of the same Volkswagen puzzle, bringing us ever closer to what will surely be a star in the Volkswagen lineup.
There's a lot we can learn about the upcoming full-size SUV from this latest concept. Powered by a 375 gas-electric hybrid powertrain, and featuring a veritable "world of displays" and digital controls inside, the T-Prime indicates that a high-tech SUV is coming. Starting in E-Mode, the concept can run for up to 31 miles on the battery pack alone. Drivers have the option of selecting Hybrid or GTE modes via touchscreen or engaging the engine automatically by stepping on the gas, cuing a switch over to Hybrid.
Then there's the look and feel of the concept SUV, which Volkswagen has stated will bear a close resemblance to the final production model. Volkswagen Design Chief Klaus Bischoff was on hand to discuss the eye-catching design, saying ""On the one hand, this concept shows the authentic Volkswagen SUV design of the modern era, but at the same time, it takes entirely new approaches. A concise example is the chrome radiator grille that extends across the entire width of the front end and integrates the LED headlights. With this impressive 'face' we are creating an entirely new, iconic SUV product sub-brand."
While we still don't have a set date of arrival, you can be sure that once this SUV hits the streets, you'll be able to come in for a test drive at Bill Jacobs Volkswagen in Naperville, IL.