VW Electric Vehicle (EV) Battery Basics: What You Need to Know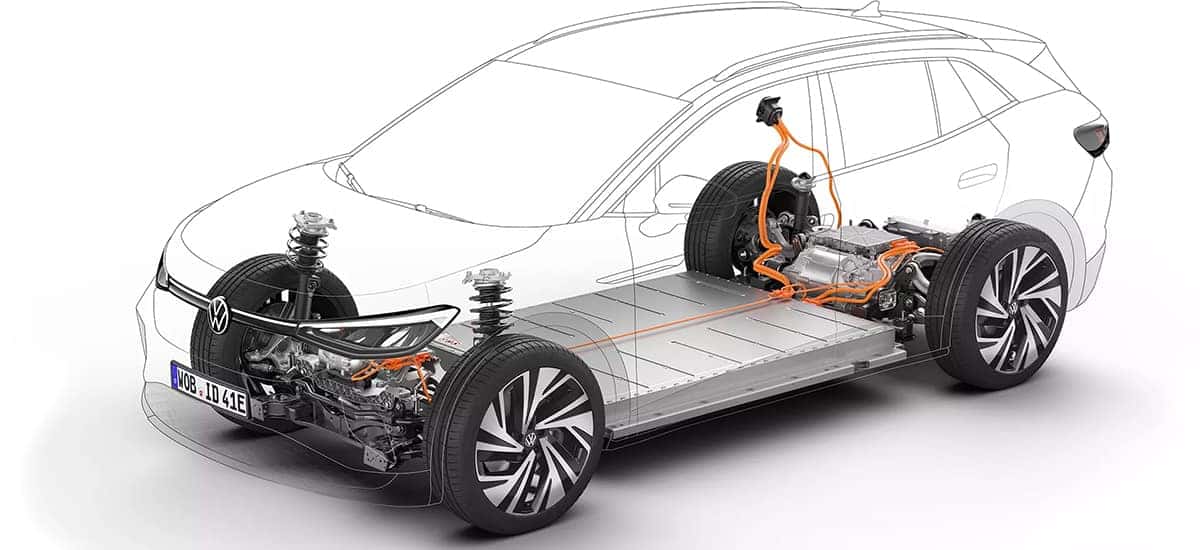 ELECTRIC VEHICLE (EV) BASICS
How will I know whether it is time for me to transition from a traditional internal combustion engine (ICE) to an electric vehicle (EV) that runs on a battery? Whether you're a novice who's just beginning to explore the world of electric propulsion or you've driven a partially electric vehicle in the past, it's becoming more important than ever to understand the fundamental differences electric vehicles have over traditional internal combustion engine models—especially as they continue to lead the way for the automotive industry as a whole.
An electric vehicle's use of renewable energy will make EVs cleaner: Increases in wind, solar, and other renewable power will significantly reduce the amount of fossil fuels required for power generation, making the electricity that powers EVs much cleaner. And with three years of unlimited charging at Electrify America DC Fast chargers at no additional cost, a Volkswagen ID.4 has become an increasingly popular option for EV drivers looking for battery life, battery charging, and battery longevity.

ELECTRIC VEHICLE (EV) BATTERY LIFE
Electric vehicles are a new frontier for most drivers. Are you an "early adopter" or are you a "laggard" when it comes to the inevitable transition from an ICE to an EV? We know that concerns about how long an EV's battery can last under normal use still exist; after all, having to replace your vehicle's main source of energy would be a huge expense that may even cancel out the advantage of purchasing an EV in the first place.
After more than a decade of experience, however, the verdict is in: When properly cared for, an EV's battery can go for several hundreds of thousands of miles, possibly outliving the vehicle it was installed in! There are even plans to give EV batteries a "second life" by repurposing them for energy storage once they are removed from EVs that are no longer functional.
ELECTRIC VEHICLE (EV) CHARGING
On a full charge, you can expect your Volkswagen ID.4 to go approximately 280 miles. Like your cell phone, a full charge is not recommended. While you can charge your EV's battery to 100% for the occasional long trip, this is not recommended for everyday driving. Why? Because it is not conducive to long battery life. For daily use, most manufacturers recommend that you maintain a charging level that is between 20% at the low end and 80% at the maximum. This means that you will not be using the entire range of the battery on a regular basis.
ELECTRIC VEHICLE (EV) BATTERY LONGEVITY TIPS
Drive gently: EVs are capable of some pretty impressive acceleration, though the more you use it, the faster you will deplete your EV's charge. Setting the cruise control and driving at a steady pace will maximize the range of your EV.
Set your regenerative capabilities to the max: Most EVs have regenerative braking (regen), which returns energy to the battery whenever you press on your brakes. This will extend your range. By setting your EV's regen setting to the maximum, you can get more miles from your battery.
Warm or cool your car before you disconnect the charger: By doing this, you can "pre-condition" your interior and battery cooling/heating system while your EV is still plugged in, saving battery power and extending your range.
BILL JACOBS VOLKSWAGEN IS READY TO HELP YOU GO ELECTRIC
The team at Bill Jacobs Volkswagen in Naperville is here to answer all your Electric Vehicle and EV Battery questions. Whether you choose to take a wait-and-see approach or you want to get in on the ground floor, there's no denying that EVs are the way of the automotive future. Contact us if you still have questions or click here to order your very own Volkswagen ID.4.
When you purchase a Volkswagen ID.4 from Bill Jacobs Volkswagen, you get three years of unlimited charging at Electrify America DC Fast chargers at no additional cost—compliments of Volkswagen. This nationwide network of over 700 convenient and reliable charging stations will keep your all-electric Volkswagen ID.4 outside of your garage and on the road where it belongs. Whether you're traveling in the Chicagoland area or along major highways and cross-country routes, you are guaranteed to find a high-speed Electrify America charging station. Click here to find the closest charging station, no matter where your journey takes you.