VW SUVS Earn Good Ratings by IIHS
Volkswagen of America, Inc. announced this week that the 2021 and 2022 Volkswagen Atlas, Atlas Cross Sport and ID.4 EV earned good ratings in the new side-impact test conducted by the Insurance Institute for Highway Safety (IIHS). Of the 18 midsize SUVs tested, 10 earned "Good" overall ratings, three of which were Volkswagen vehicles. If you are shopping for a reliable SUV, this is even more reason to consider a Volkswagen. Bill Jacobs VW in Naperville offers a variety of safe and practical SUVs in-stock and available for order. If you are in the market for a new safe SUV, look no further than our VW dealership serving Naperville, Aurora, Chicago and the surrounding suburbs.
Three Volkswagen SUVs Earn "Good" ratings in new Insurance Institute for Highway Safety side-impact test
The Volkswagen ID.4 EV was the only electric vehicle tested and was one of two models tested to earn good ratings across all areas of evaluation. The overall IIHS side-impact rating includes evaluations of vehicle structure and cage safety along with driver and rear passenger injury measures including head, neck, torso and pelvis protection.
To earn a good rating in either the old or new side test, the vehicle's occupant compartment must hold its shape well during the crash. Measures collected from the dummies must not indicate a high risk of severe injuries. In addition, the side airbags and seat belts should prevent the dummies' heads from making hard contact with the interior of the vehicle. The Volkswagen Atlas, Atlas Cross Sport and ID.4 averaged good scores across these areas of evaluation.
All Volkswagen SUVs provide six airbags as standard, along with a number of electronic safety systems—such as an Anti-lock Braking System (ABS) and Electronic Stability Control (ESC)—as well as a standard rearview camera. Model year 2021 and 2022 Atlas, Atlas Cross Sport and ID.4 include standard Front Assist (Forward Collision Warning and Autonomous Emergency Braking with Pedestrian Monitoring); Blind Spot Monitor and Rear Traffic Alert.
Volkswagen's IQ.DRIVE® advanced driver assistance technology, featuring hands-on semi-automated capability, is standard on 2021 and 2022 ID.4 and on SEL trims of the 2021.5 and 2022 Atlas, as well as 2021 and 2022 Atlas Cross Sport models. On the highway, IQ.DRIVE features lane centering and a capacitive steering wheel to make driving easier. Around town, IQ.DRIVE alerts you to surprise vehicles or pedestrians in front of you, and keeps an eye around you to help make driving safer. The IQ.DRIVE® system utilizes front and rear radar, a front camera and several ultrasound sensors to collect data from the surrounding area, enabling Travel Assist (semi-automated driving assistance); Front Assist; Active Side Assist; Rear Traffic Alert; Adaptive Cruise Control (ACC) Stop and Go; Lane Assist (Lane Keeping System); and Emergency Assist (semi-automated vehicle assistance in a medical emergency).
The seven-seater 2022 Volksen Atlas, a family standout in the midsize SUV segment, starts at $34,335 MSRP. The 2022 Volkswagen Atlas Cross Sport, a five-seater midsize SUV, starts at $33,635 MSRP. The 2022 Volkswagen ID.4, Volkswagen's first all-electric compact crossover SUV and the brand's first global EV, starts at $41,230 MSRP, before a potential Federal tax credit of up to $7,500.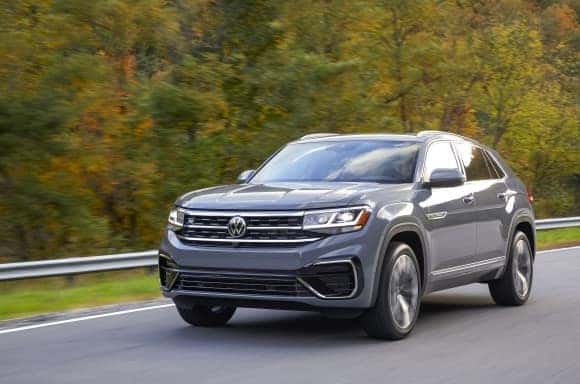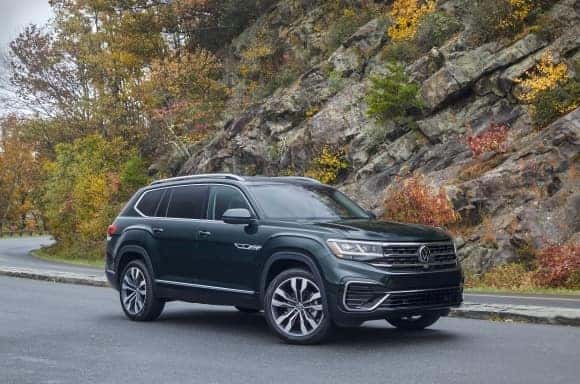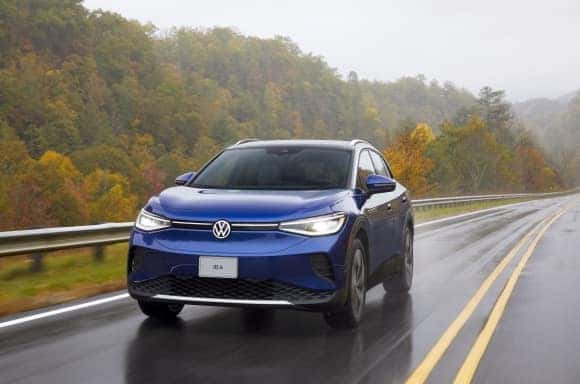 Award-Winning VW SUVs for Sale
If you are looking for a safe & reliable SUV for your next vehicle, we strongly encourage you to look at getting a VW SUV. As outlined above, three Volkswagen SUVs recently were awarded "Good" ranking for safety by IIHS. The Volkswagen Atlas Cross Sport, Volkswagen Atlas, and Volkswagen ID.4 earned "Good" ratings in the new side-impact test conducted by the Insurance Institute for Highway Safety (IIHS). The team at our VW dealership is here to help you find the perfect VW SUV for you that is both safe, reliable and affordable. At Bill Jacobs VW, the cars bring you in and the experience brings you back.